Liam and I are recovered from our virus and getting into summer mode. I am beyond lucky that there is so much free entertainment near us. We have been riding the bike to Babies and Books at the library. Liam is making new friends there. He was so used to the kids at daycare that it is nice for him to learn to be social with other kids. We take bike rides to City Park where we play in the playground, splash in the ocean, or watch the dogs in the dog park. We walk to any of the numerous playgrounds nearby. I keep saying we're going to ride to public pool but we haven't yet. We are so lucky to always have something to do that doesn't cost money. One of the outdoor malls near us is having free concerts every Wednesday night. Last week, there was an oldies band playing. Liam was dancing and having a grand old time.
Yesterday, we experienced a downside to doing this solo: no babysitters. We had taken Liam to Fenway last October. It was cooler out and we had covered seats. For yesterday's game, we were in the bleachers in July heat and no option but to take Liam. We were afraid that we would've spent all that money on tickets and not be able to stay for more than two innings but Liam did fantastic! He stayed on our laps or stood in front of us. There were other people with kids near us so we were the only ones. (There's always the fear of being "those people.") We kept him slathered n SPF 100 and he barely got a hint of color. He stayed until the end and danced to "Dirty Water" with the crowd.
It is funny how sometimes things turn out perfect. We went the Pour House for dinner after and he still did well. Unfortunately, Liam took a power nap ont he way home form Boston and was up until midnight. The dance club we set up in the kitchen did not help tire him out. He woke up at 8 this morning and is right back to his normal schedule.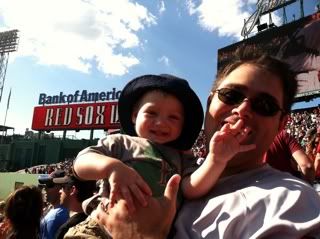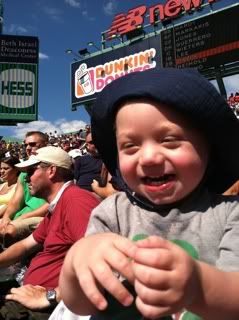 I had to take this one because it was our Mallrats moment. There are so many escalators going through the Prudential Center that we were just carrying Liam's collapsible stroller over them. Every time we did, I would lean into Mike's ear and say "That kid is back on the escalator!"