Mike's parents are beyond wonderful. However, they are hard to shop for because they usually get whatever they really want. Since they had the "things" they needed, Mike and I decided to get them memories for Christmas last year. Growing up in Rhode Island, my parents took my sister and I camping on Cadillac Mountain in Maine. Mike's family also took him camping in Bar Harbor every summer. Naturally, we wanted to take Liam camping there. For Christmas, we wrapped marshmallows, chocolate, and graham crackers for in a box with a note explaining their gift.
Last year, we took Liam camping locally. That way, if he was a terror, we could take him home but still go visit the campsite during the day. We were okay taking him a bit farther this time because we really know the area and were close to relatives. If anything went wrong, we had plenty of options. Since we both have been going there forever, we knew where the nearest stores, hospital, etc, were without having to use GPS. We were beyond excited to take Liam to the place we had already made so many memories.
Liam loved camping. We quickly gave up trying to keep him clean. He looked like PigPen and loved playing in the dirt.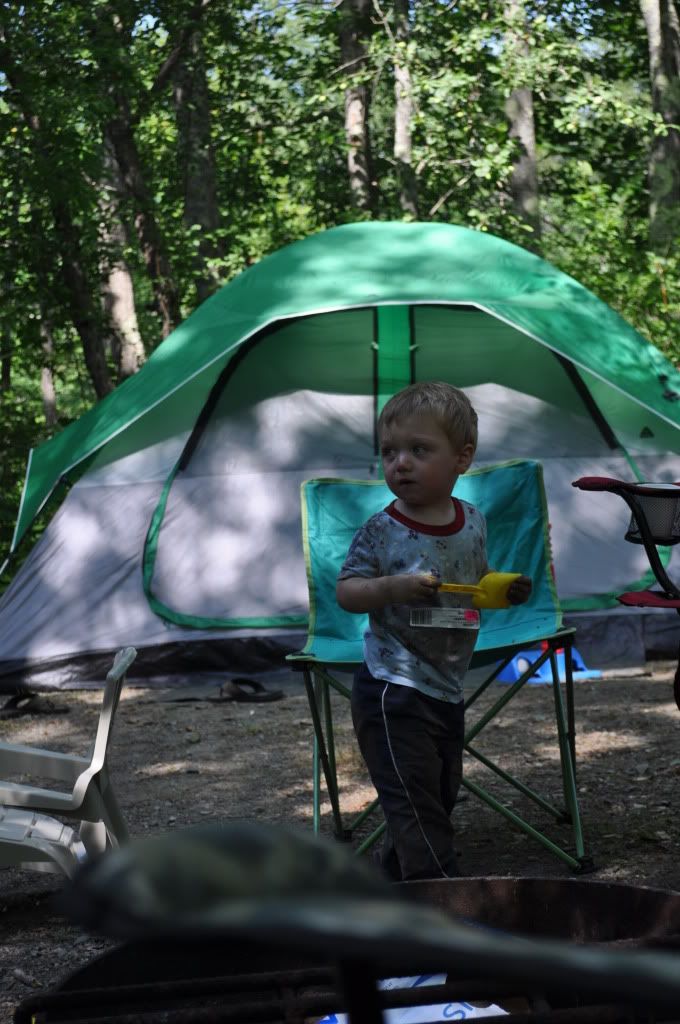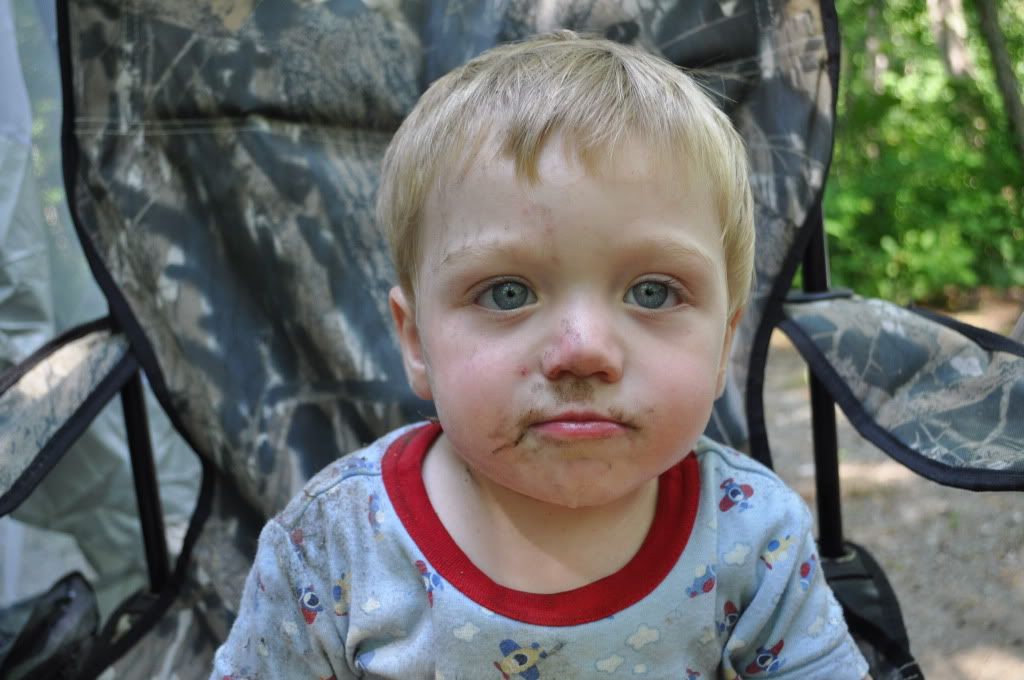 Ah dirt! He was so happy. A quick spray under the shower cleaned him up.
He loved playing in the tent and the noise the tent made when he rubbed his fingers over it.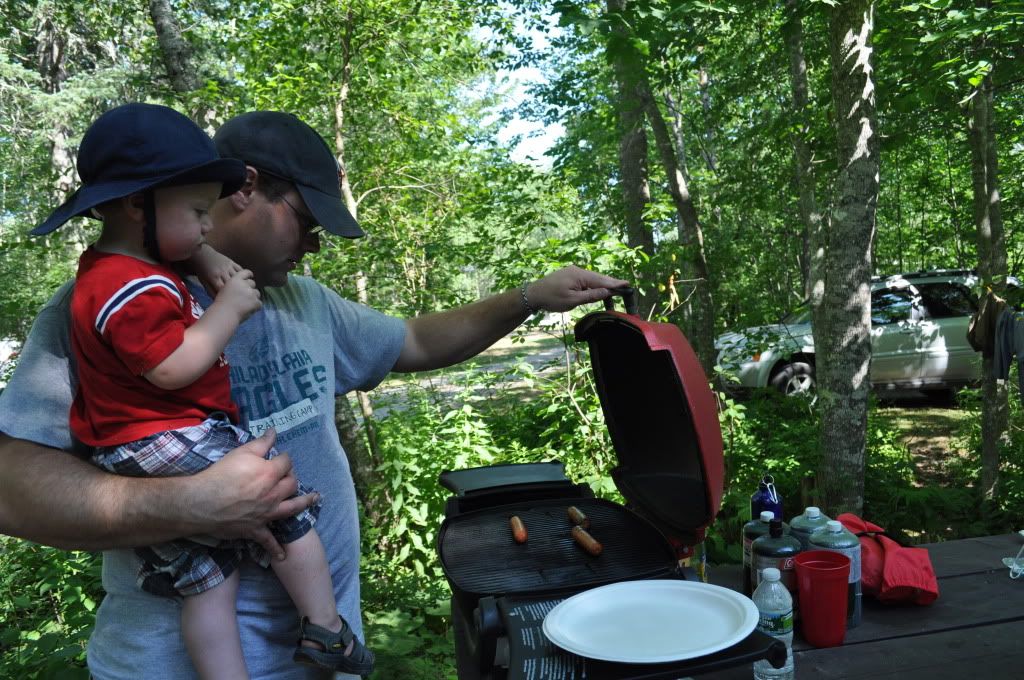 Camping is supposed to be simple. Liam's new favorite thing to watch at home is cooking. He was happy to watch hot dogs grill and snuggle Dad at Lamoine.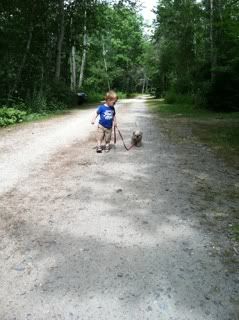 Jake is not the biggest fan of camping. He was relieved that, because of Liam, we didn't go sea kayaking like we usually do. Liam was happy to take Jake for a walk. Besides "mama" and "dad," Liam's first word was "dog." Jake and Liam get along like siblings. They enjoy tackling each other and teasing each other but deep down share a bond.
Liam slept pretty well camping. He woke up at 5:30 Friday morning. Mike woke up with him and took him to the water to see the boats. Boat is Liam's latest word. He's up to about twenty words.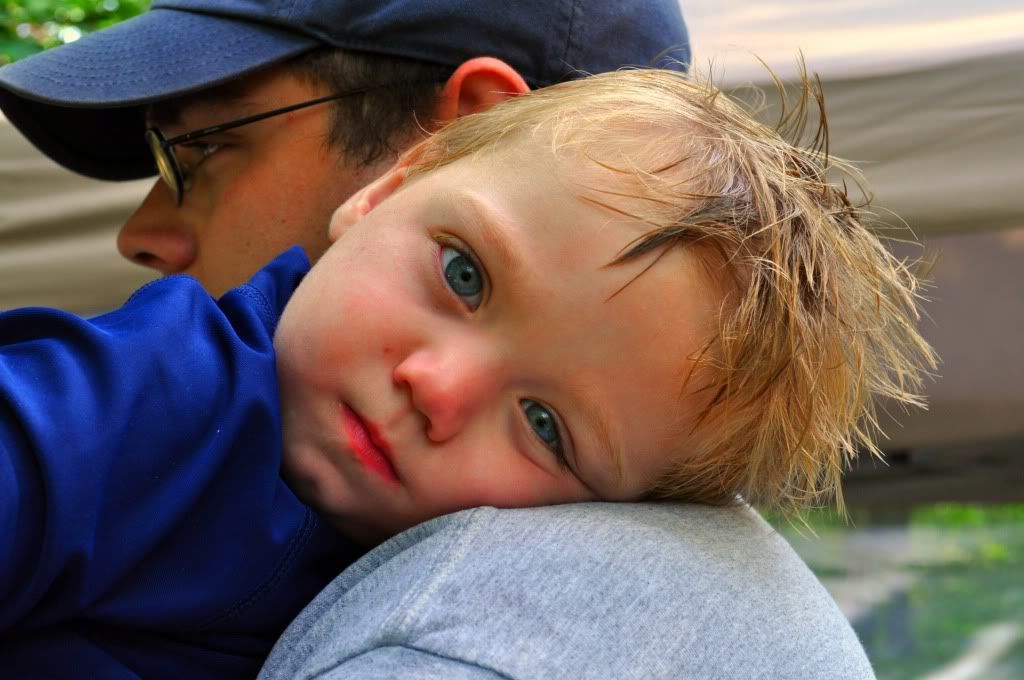 Camping is tiring. There were a lot of "pick me up" moments. This may be my new favorite picture.
When I went to Bar Harbor with my family, my mom would take rolls and rolls of film. When she developed them, there wouldn't be a single picture of any of us. All of the pictures were pf the beautiful scenery. I actually rememeber her telling us to get out of pictures at the top of Cadilac Mountain. Therefore, I felt the need to take a few "Mom pictures."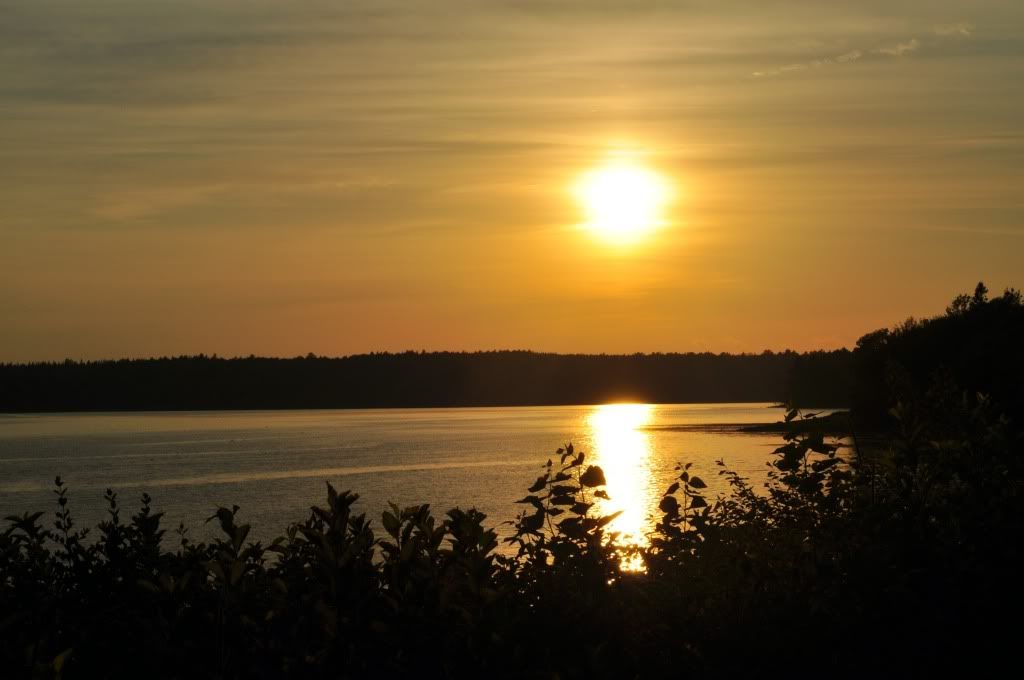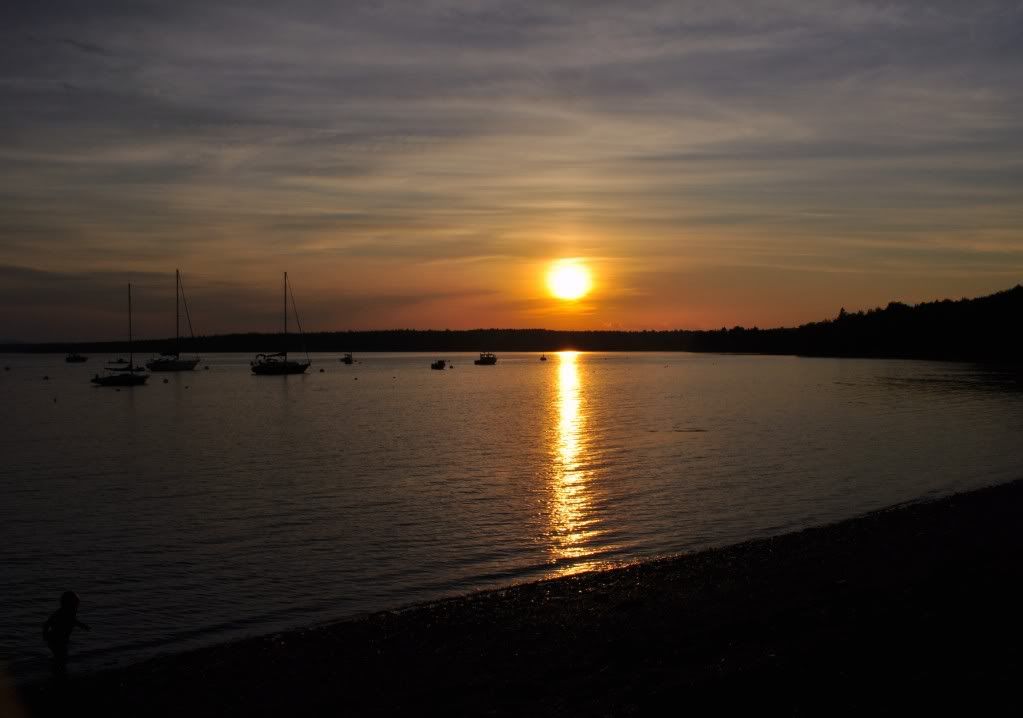 I even let Liam in a picture. I would have loved to get a bunch with him but after four days, jake was done with the water and ran for the hill every time I put him down.
It was a very relaxing trip. We didn't even leave the campground for the entire trip. We played in the fields, went swimming in the ocean, dug for mussles, got dirty, went for walks, and ate hot dogs or hamburgers for most meals. We did our traditional fresh lobster bake. Liam wasn't sure how he felt about water bugs.
Since he's never had them and we weren't sure if he was allergic, he had T-bone with me. Mike's family gave us a T-bone from their cattle. I am getting used to the idea the meat doesn't magically wind up cut, on styrofoam, and wrapped in plastic. Not long ago, my dinner was named Skittles. Skittles was the most delicious steak I've ever had. Liam thought he was better than hot dogs, which is a big deal in liam's world.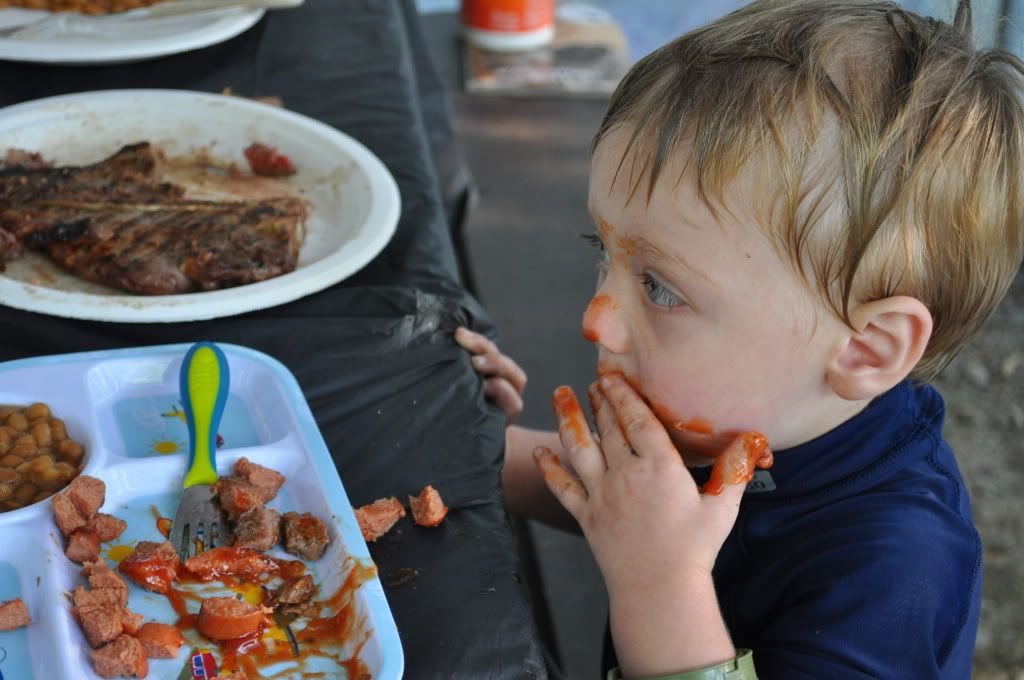 Finally, it was time to back up and head home. Liam wanted to help so badly and kept taking things apart as quickly as we could pack them up. I had a mother of the year moment to keep him occupied long enough to let us pack the car.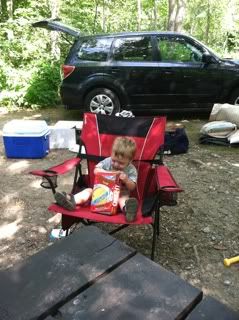 Mike and I were worried about Liam and a six hour car ride. We invested in a portable DVD player and some new videos from the library. Liam is not a TV kid at all. He has no attention for TV. The best he would do is watch five minutes of Sid the Science Kid in the morning so I could put my contacts in and do my hair before work. However, six hours is a long time so we figured it was worth a try. He loves Sid the Science Kid. We watched the same three episodes for the entire trip. He would vary between watching it, looking out the window, and telling us stories. I wish I had a picture of Liam watching the screen while gnawing on his toes. When we got home, we put it away and it won't come back out until our next trip to Maine.
It is breathtaking there. I think a new family tradition is born.