Today, Liam and I had our first trip the the zoo without a stroller. To yet again brag about my area, I am eight miles from a fantastic zoo. We have the membership and go fairly often. We go during the winter on random warmer days. Liam and I race there after school for a quick visit from time to time.
Sunday, Liam spent six hours in the car. Yesterday was rainy so we stayed in, cleaned, and recovered from camping. Today deserved an adventure so off the the zoo we went.
I put the stroller int he car just in case. The last time we went to the aquarium, we brought the stroller and he never once sat in it.
The first spot we stopped was the zebras. Liam kept waving to them. In Liam's classification, everything falls into a few categories: dog, duck, car, ball, or boat. Zebras and elephants were dogs. Cranes and eagles were ducks. Somehow, pink flamingos are dogs.
He tried to get closer.
We stopped to look at the elephants.
The giraffes were fascinating.
One was pretty friendly and got up close.
The camels are always a hit. He finally sat on the wooden camel.
In typical Liam fashion, he refused to pose for any pictures for me. He would sit down nice nice in front of various exhibits and give the hint of a possibility of a photo opp but would move at the last minute. He did, however, photobomb at every opportunity. He would be in every strangers' picture if it were up to him.
Of course, one of the biggest attractions were the stairs. Ahh, stairs.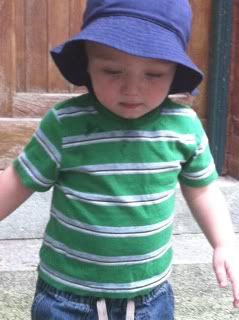 As nice as it was to not have to lug a stroller, it is bittersweet to realize that those baby days are behind us. I love the boy Liam is. I am truly blessed.